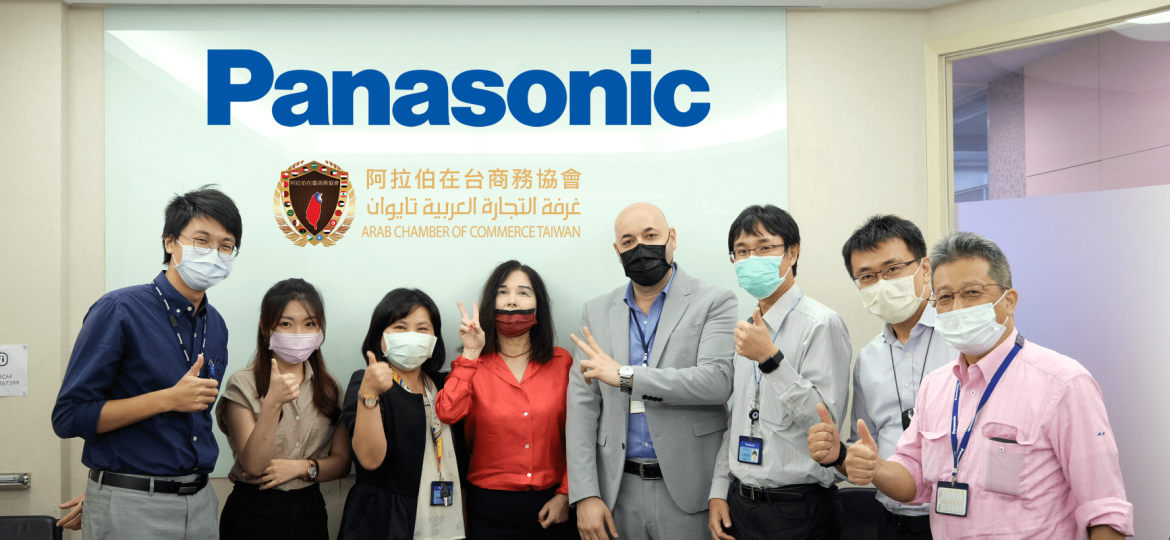 meeting with panasonic taiwan
會見臺灣松下電器
日期:2021年10月3日 星期五
Date: Friday 3/Oct/2021
我們很高興在疫情降至二級警戒後,能與Panasonic海內外的部門主管群開會,討論雙方合作的可能。除了交流彼此的理念與下一季目標外,還討論了產品的設計與未來在阿拉伯市場的行銷方針。
It was a great pleasure to meet with Panasonic Taiwan's head management in our chamber office after a long break. Glad to discuss our plans and goals for this year and next quarter. We are pleased to learn about Panasonic's new product design and future marketing policies for Panasonic in the Arab world.
我們很樂見 Panasonic 和其他產業有興趣瞭解如何擴展到阿拉伯市場,並期待接下來在阿拉伯市場的具體行動。
We are very glad to see that Panasonic is always interested in learning how to expand into the Arab market with the help of the Arab Chamber of Commerce Taiwan.
很感激能和Panasonic有正向的交流與回饋,往後我們也會陸續為更多產業提供商業機會,讓更多企業在阿拉伯世界成功找到客戶。
Moreover, we are grateful to receive positive feedback and suggestions from Panasonic Management. In the future, we will continue to provide business opportunities for more industries, allowing more and more Taiwan companies to successfully find customers in the Arab world.
إجتماع شركة باناسونيك تايوان : دائما تعقد إجتماعات مثمرة مع الإدارة الرئيسية لشركة Panasonic Taiwan في مكتب غرفة التجارة العربية تايوانيسعدنا مناقشة خططنا وأهدافنا المشتركة لهذا العام والربع القادم مع الشركة العالمية باناسونيك كما يسرنا دوما التعرف على كل جديد و عرض تصميم منتجات باناسونيك الجديدة للأسواق العربية وسياسات التسويق المستقبلية لباناسونيك في العالم العربي.  يسعدنا أن نرى أن باناسونيك مهتمة دائمًا بمعرفة كيفية التوسع في السوق العربية بمساعدة غرفة التجارة العربية في تايوان.
 علاوة على ذلك ، نحن ممتنون لتلقي ردود فعل إيجابية واقتراحات من إدارة باناسونيك. في المستقبل ، سنستمر في توفير فرص عمل لمزيد من الصناعات ، مما يسمح للمزيد والمزيد من الشركات التايوانية بالعثور على عملاء بنجاح في العالم العربي.