بدعم متميز و نجاح كبير تايوان ترحب بالتجار القادمين من الشرق الأوسط لشراء منتجاتها
2019中東商機日成功牽線來自中東20位買主,採購台灣產品。
台灣貿協積極促使第二次中東商機日圓滿成功,當天媒合在地145家廠商進行234場次洽談,氣氛熱絡。
阿拉伯在臺商務協會公關經理潘俊賢先生表示:
阿拉伯在臺商務協會的使命是為了將台灣推向阿拉伯世界舞台。中東商機日特別具有實質意涵。由於台灣貿協積極建立與阿拉伯國家之間更緊密的經貿關係,相信未來會有更多阿拉伯國家商機選擇台灣。
台灣貿協持續緊密關注中東和土耳其的市場動向,阿拉伯在臺商務協會更是以實際行動幫助台灣企業進駐阿拉伯市場
阿拉伯在臺商務協會理事長Wael Hamouie先生表示:
「我們的任務是要為台灣的經濟成長創造機會,並且建立與推廣產業的創新、經商的便利。藉由協助商貿部門,台灣可以在阿拉伯世界的經濟市場中扮演領導的角色。我們企圖在台灣與阿拉伯世界之間創造商業橋梁 — 瓦解無論是在文化、社會、語言上的種種障礙,讓雙邊的商貿走向更繁榮的路途。」
此次買主業別包含金屬加工機、建材五金、汽機車零組件、電腦及周邊產品、遊戲機、電力輸配零組件、照明、資通訊電子、POS系統、食品、化妝品、醫療器材、扣件及製造機械、安全監控、不鏽鋼、模具、AI及IoT等,買主分別從沙烏地阿拉伯、哈薩克、阿拉伯聯合大公國、伊拉克及卡達等國遠道而來,創下紀錄。
تسعى تايوان لمساعدة الشركات المحلية في التوسع لتصدير منتجاتهم إلى الشرق الأوسط.
وقد كان تنظيم يوم خاص لدعم التجارة بين تايوان والشرق الأوسط دليلا هاما على جدية تايوان في دعمها لنجاح الجهود الرامية لتحسين نشاطها التجاري مع دول الشرق الأوسط وما حولها.
خلال اليوم الخاص لدعم التجارة مع الشرق الأوسط صرح السيد وائل حموية رئيس غرفة التجارة العربية تايوان أن أكثر من 20 رجل أعمال من كافة الدول قد حضروا لتمثيل شركاتهم وتم عقد العديد من الصفقات لشراء المنتجات التايوانية وخاصة بسبب الجهود المبذولة و التعاون مع مركز التجارة الخارجية التايوانية وجميع الجهات الحكومية لإنجاح اليوم الخاص للتجارة مع الشرق الأوسط.
وحسب نتائج الإحصائيات التي تم التصريح عنها بعد إختتام جلسات الشراء بين المصانع التايوانية تم تقديم عروض شراء من مئات المصانع.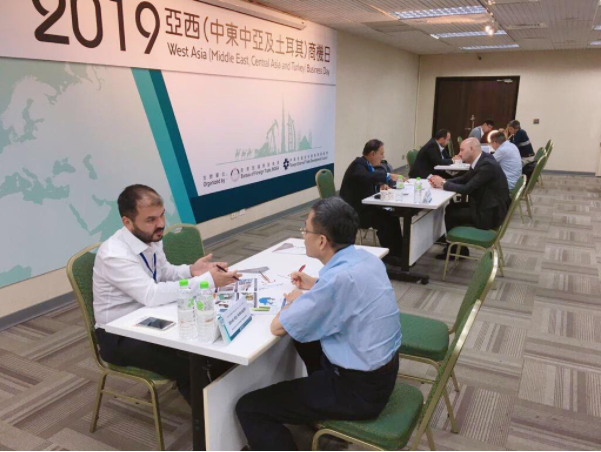 وفقًا لمى سجله المركز التجاري الخارجي فإن طلبات المشترين شملت آلات تصنيع المعادن ، وأجهزة مواد البناء ، ومكونات السيارات والدراجات النارية ، وأجهزة الكمبيوتر والمنتجات الطرفية ، وأجهزة الألعاب ، ومكونات الطاقة وتوزيعها ، والإضاءة ، ، وأنظمة نقاط البيع ، والغذاء ، ومستحضرات التجميل ، والمعدات الطبية ، والسحابات. وآلات التصنيع ، ومراقبة السلامة ، والفولاذ المقاوم للصدأ ، وما إلى ذلك.
وقد كان رجال الاعمال المشاركين من المملكة العربية السعودية وكازاخستان والإمارات العربية المتحدة والعراق وقطر.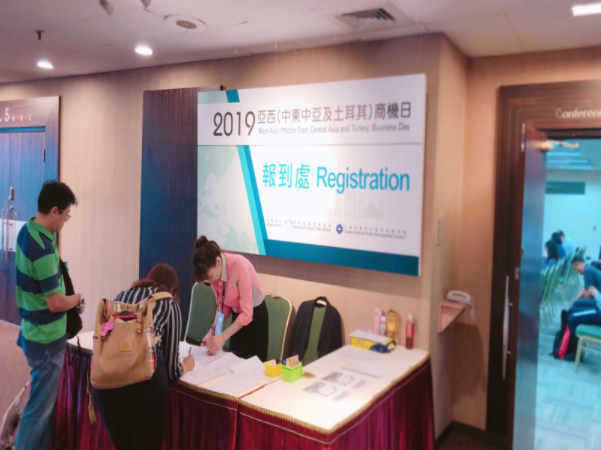 قال السيد فيتو بان ، مدير العلاقات العامة ف غرفة التجارة العربية في تايوان: يوم العمل في الشرق الأوسط حدث مفيد للغاية ويضيف مع جهود مركز التجارة الخارجية التايوانية لبناء علاقة عمل بين تايوان والشرق الأوسط ، سيأتي المزيد من رجال الأعمال إلى تايوان. ويضيف أن غرفة التجارة العربية في تايوان تهدف وضع أعمال تايوان على الخريطة التجارية في العالم العربي.
وخلال اللقاء أضاف السيد وائل حموية رئيس غرفة التجارة العربية تايوان "نحن نفتح أبوابًا جديدة لتطوير التعاون التجاري بين تايوان و 22 دولة عربية و مهمتنا هي خلق فرصة للنمو الاقتصادي التايواني والبناء ، وتشجيع الابتكار ، وريادة الأعمال ،. من خلال مساعدة قطاع الأعمال ، والسماح لاقتصاد تايوان بلعب دور رائد في اقتصاد العالم العربي.لدينا الطموح لإنشاء" جسر أعمال لتنهار اي حواجز ثقافية واجتماعية واللغوية لتمهيد الطريق أمام الأعمال التجارية لتزدهر بين تايوان وبقية العالم العربي."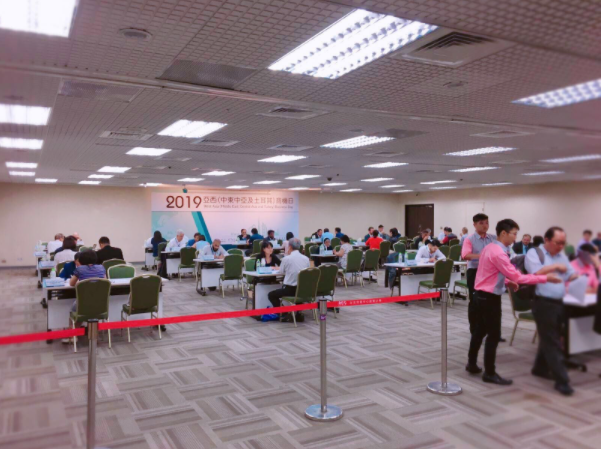 Middle East Business Day Succeed in Connecting Taiwanese Companies with Middle East Market.
Taiwan continues to support the local companies to expand their business to the Middle East markets. Taiwan External Trade Development Council also has continued to expand in the East Asian and Turkish markets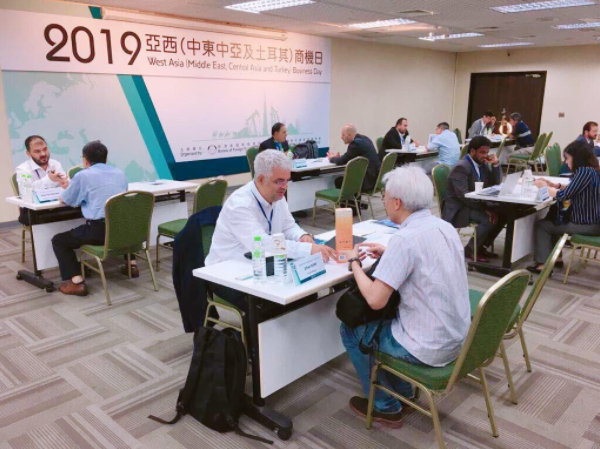 The Chairman of the Arab Chamber of Commerce Taiwan Mr. Wael Hamouie states.
"20 buyers representing their companies came to purchase from Taiwanese suppliers at the World Trade Center Taipei."
He adds, "TAITRA brought great efforts to make this business day ends very successful with 234 contests held and 145 manufacturers participated."
According to TAITRA, the buyer's business includes metal processing machines, building materials hardware, automobile and motorcycle components, computers and peripheral products, game consoles, power transmission, and distribution components, lighting, telematics, POS systems, food, cosmetics, medical equipment, fasteners. And manufacturing machinery, safety monitoring, stainless steel, mold, AI and IoT, etc., buyers from Saudi Arabia, Kazakhstan, the United Arab Emirates, Iraq, and Qatar.
Mr. Vito Pan the Public Relations Manager at the Arab Chamber of Commerce Taiwan said: Middle East Business Day is a very helpful event and he adds with TAITRA efforts to build a business relationship between TAIWAN and the Middle East more businessmen will come to Taiwan.
He adds,
The Arab Chamber of Commerce Taiwan was founded with the mission of putting Taiwan business in the map of the Arab world.
Chairman Mr.Wael Hamouie states: "Our mission is creating the opportunity for Taiwanese economic growth and building, promoting innovation, entrepreneurship, and convenience. By assisting the Business sector, allowing Taiwan's economy to play a leading role in the Arab world economy.", ACCT mentioned. "We have the ambition to create a "business bridge" where cultural, social, and lingual barriers are collapsed to pave the way for business to flourish between Taiwan and the rest of the Arab World."